This weekend, my friends and I decided to have a mini-vacation, you could say, and celebrate my birthday (which occurred a week and a half ago, but so what?) We planned out an exciting day which included breakfast at a hometown diner, relaxing on Clearwater Beach, and finally, snazzing it up for a evening at the Hard Rock Casino. I had a BLAST, but learned a few things along the way...
Casinos are not my cup of tea.
My friends and I thought it would fun to head over to the Hard Rock Casino in Tampa this weekend for a bit of birthday celebration fun. Little did we know, we were in for quite the shock. Although I usually love new experiences, this one was...interesting, to say the least. Dinner at the Hard Rock Cafe was fantastic. The company was even more fantastic. But, when it came to the gambling, we were like lost little children who didn't have a clue. Lesson learned - Come to a casino with a budget of $100+ not $10.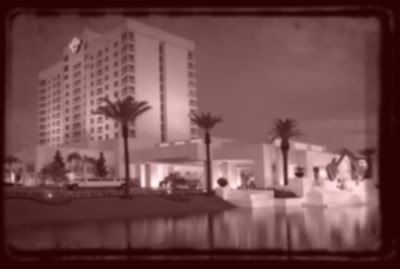 Hole in the wall breakfast places ARE my cup of tea.
Before heading to the beach on Saturday, we stopped at the Lenny's - an old hole in the wall breakfast diner in Clearwater. Lenny's had the most extensive menu I've seen in my life, and it had that old hometown diner feel - which I love! Not only were the meals delicious, but we also got 5 danishes EACH as an appetizer to our already gigantic entrees. Check out
Lenny's
if you're ever in the Clearwater area.
Nickel slots don't really cost a five cents. The same goes for penny slots.
We learned that the hard way. After excitedly putting in a dollar, and expecting 20 tries at the slots, we were utterly disappointed after two tries left us broke. Warning to all amateur gamblers: 5 cents does not mean 5 cents!
Everyone knows you can play Poker and Black Jack at a casino, but did you know you could play War

?
Me either.
Although we never got around to table play, if I ever go back, that's my first stop. Go with whatcha know, right?
I'm addicted to pinterest.com.
If you haven't already, check this place out. But, beware, you may become shamelessly addicted.
John Travolta is a scientologist.
Who knew? I thought Danny Zuko was smarter than that.
Sun Groves has the best orange-vanilla swirl soft serve known to man.

After a long afternoon at the beach, nothing cures the sunburnt, sweaty, sandy feeling better than an ice cold ice cream cone.
Casinos are not home to the glamorous and wealthy, but the exact opposite, in fact.
Maybe in Vegas it's different? But, in Tampa, uhh, well, let's just say that's not the case.
I'm extremely gullible when it comes to shows about ghost hunters.
Ok, I admit it. I have a minor infatuation with Ghost Adventures on the Travel Channel. Not only do I find the personalities of the hosts entertaining, but I also seem to believe almost every ghostly encounter that occurs - making it that much more exciting/terrifying. I swear, that faint scratching noise really did sound like a ghost telling Zak to leave now or face the consequences!
Danny Curtis is pretty cute when he dresses up and plays guitar.
Ok, ok. I already knew that - but it's true! See?