Last night, I went out to celebrate one of best friend's birthdays - Happy Birthday Kristin! Kristin and I are on a "try new places" kick. Both of us are Gator grads still living in the great ole' town of Gainesville. That said, we realized that during our 4 years of undergrad we did NOT take advantage of the variety of restaurants and culinary creativity Gainesville has to offer. We've made it our goal to only go to restaurants that we've never tried before. So, last night, when we had to make a decision about where to go to dinner and Kristin suggested Warehouse Restaurant & Lounge, which I had never heard of, I knew we had to give it a shot -- and I'm so glad we did. Warehouse is exactly how it sounds - a warehouse. It is located in a slightly sketchy area of town (just south of downtown on Main Street), but once you're inside that giant, warm room and surrounded by wine bottles and live music, you feel as if you're right in the heart of downtown.
I was so pleasantly surprised as I walked in. The high ceilings and shelves full of wine that lined the walls gave Warehouse a funky, modern, yet classy ambience. Their menu does not have much variety, but what they do have? Amazing. Their dishes range from curried chicken and seared ahi tuna to gnocci and corn cakes. I decided to go out on a limb and try their Grilled Flank Steak & Snow Crab Macaroni and Cheese. HOLY COW. It was unbelievable. Honestly, one of the best things I've ever tasted. Although the wait for our food was a bit long, you can tell that Warehouse offers freshly prepared food - no microwaves, no reheats.
Now, of course, because we were surrounded by wine, we had a get a bottle for ourselves. Their drink/wine/beer menu is quite extensive - significantly more extensive than their food menu. We went with a bottle of pinot grigio and enjoyed every last drop! Finally, the grand finale - dessert. We decided to share raspberry pound cake (which we got on the house, thank you very much) and to our surprise, the pound cake had been grilled! This is not something I've ever seen before, but it works. And it is GOOD.
We ended our night out on the patio listening to Little Jake and the Soul Searchers, a band that looked and sounded as if they came straight out of the fifties. They had everybody dancing, smiling and singing. Kristin and I decided that we just might have to become groupies - they were just that awesome.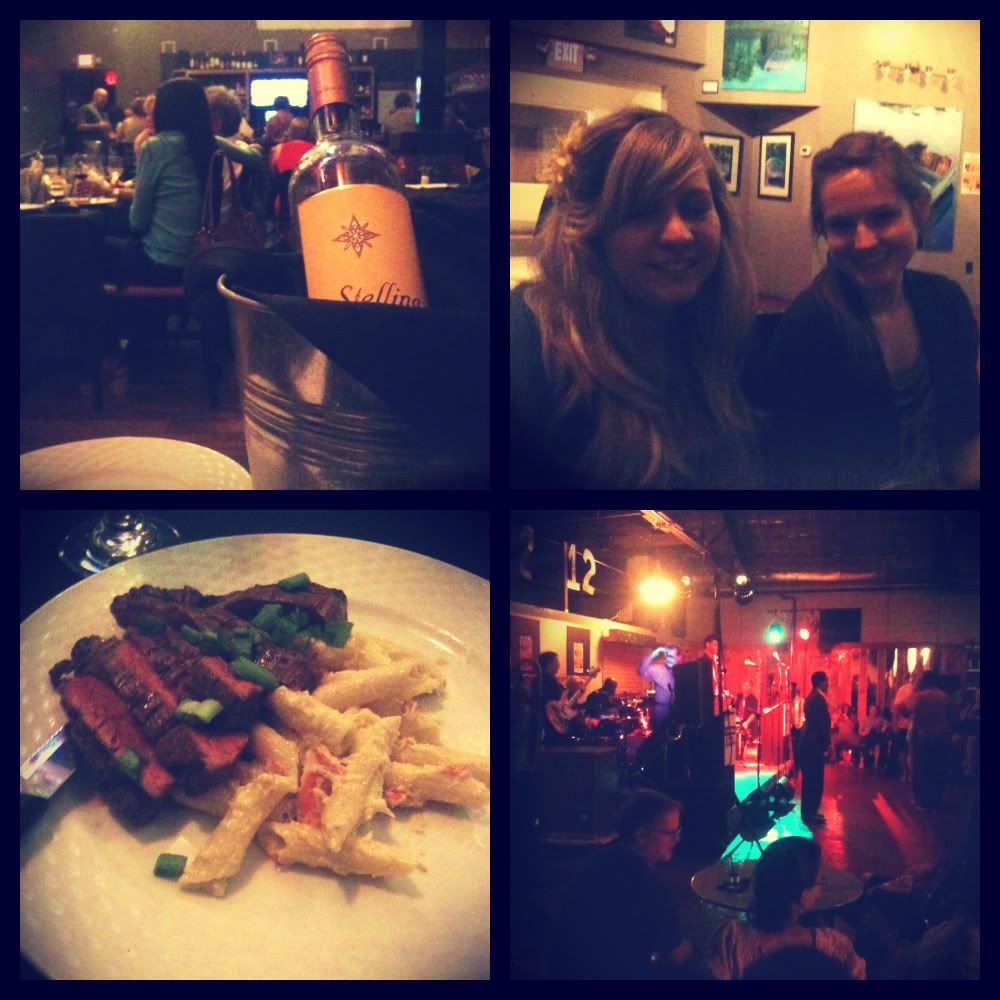 SO. To anyone looking for a fun, funky, delicious restaurant in the Gainesville area: Warehouse is your place. And be sure to venture there on a night when they have a live band!