A little background before I begin...I'm in Minneapolis, MN right now for a League of American Orchestras Conference. What an experience! I've learned an incredible amount, and have met incredible people - definitely worth the time & money it took to get here. While I have been learning and interacting and networking, I've also taken the time to be a tourist in the "Land of Lakes" - and have been pleasantly surprised.
I blame my less-than-positive outlook with Minnesota on my unfamiliarity with the whole midwest area. I had absolutely no idea the types of people who lived here, the climate, the geography, nothing! But, I made it a point to be completely open to new things, people, and activities on this trip. And I've had the best experience!
I brought Danny along as my travel buddy - he would sleep while I worked at the conference, and then when I was done we would explore the city and surrounding areas. He also acted as my temporary travel agent, researching the best places to visit, how to get there, and how much it would cost us. Quite the resource.
Here's a recap of our trip thus far:
Day 1:
After waking up early, we head to the airport. Despite two strong opinions that my bag couldn't possibly be over 50 lbs, my suitcase weighs in at a whopping 54 lbs. I embarrasingly unpack 5lbs in front of my fellow AirTran Passengers. Danny dies of embarrassment. Off to security we go. I got x-rayed for the first time. Awkward. Finally, we hop on our flight to Minneapolis, with two stops: Atlanta & Milwaukee. Arrive in Minnesota. Travel from airport to hotel downtown made surprisingly easy with the Light Rail.
Arrive at our luxurious Holiday Inn Express. Immediately, head down to the streets. We explore and are determined to find a "only-in-MN" restaurant for dinner. We settle on
The Local,
an Irish Pub on Nicollet Mall - the main shopping/dining hub of Minneapolis. And, yeah I know, not very Minnesota - but it looked exactly like a pub in Ireland and it was relatively cheap, and...well...let's be honest...who doesn't love a good pint at the end of a long, tiring day! Danny and I have hearty dinners, and even try their infamous drink,
2 Gingers
. Tasty little meal. Next, we head down to the Mississippi. At this point, it's dusk, but still about 96 degrees. I forgot to mention earlier - Minnesota was under excessive heat warnings the first two days we were here. Talk about unlucky. Here I was, hoping for cool weather, and ended up coming to hotter weather! Ok, back to the Mississippi. We walk along river. Ooo and aah at the bridges, the old mill and the falls. Finally, exhausted, we head back to the hotel and pass out.
Great first day!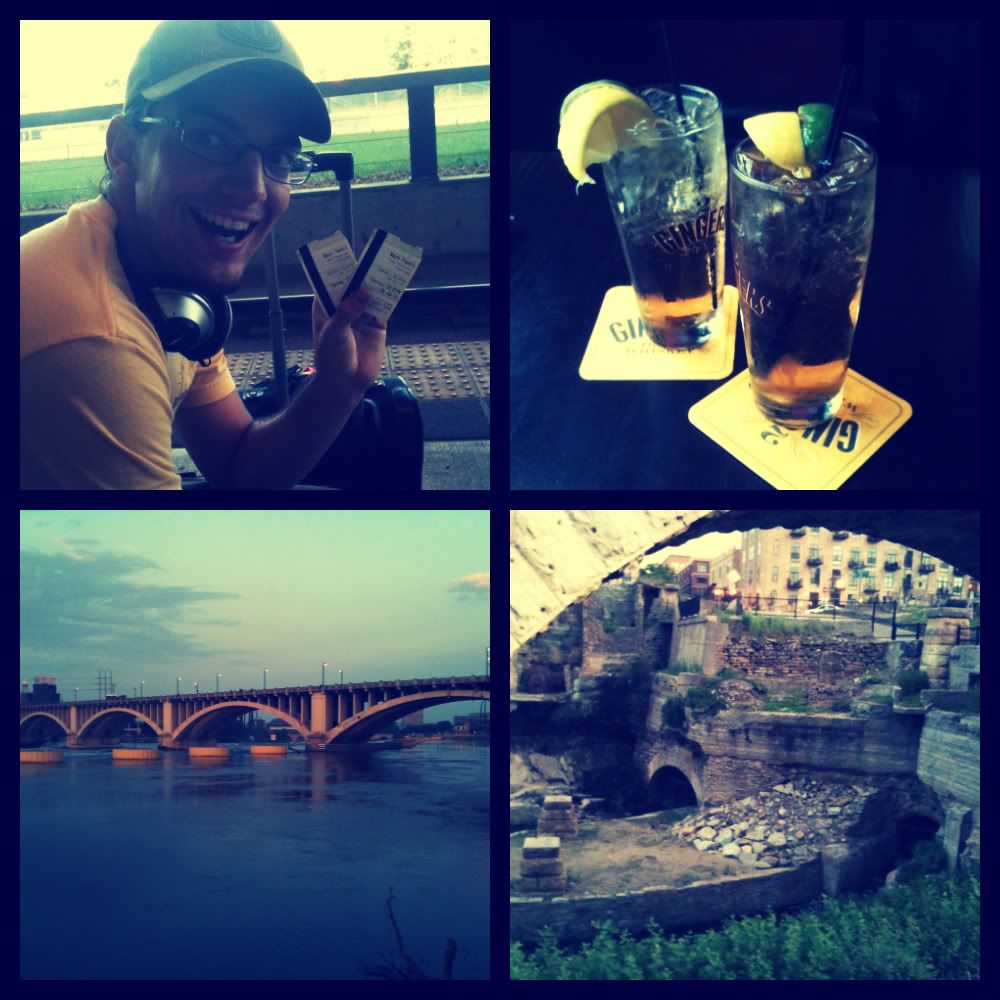 Day 2:
I'm in the LAO Conference till 4PM - but, thankfully, the sun doesn't set in MN till 10PM or so, leaving lots of time for being a tourist and exploring. Danny and I decide to rent bikes to travel around the city. Minneapolis has this great program called Nice Ride, which allows riders to use a bike for free for a half hour, after which they are charged $5 for 24 hours. Thankfully, it took Danny and I less than a half hour to get to our destinations, making our travel cost $0. (Although, I may consider sweating to death and getting a sunburn a personal cost, but whatever.) First, we head to the Minneapolis Sculpture Garden. As you'll see in one of my previous posts, they had incredibly unique scultures all nestled within European-like giant shrubbed walls. The giant Spoonbridge & Cherry is one of Minneapolis' most famous landmarks. After photographing and exploring the grounds, we headed to Loring Park - the so-called "Central Park" of Minneapolis. Although this was nothing compared to the actual Central Park, or even the Boston Commons, Loring Park had a unique charm of its own. With Canadian geese frolicking freely, and a tiny river running through the center, this park would be the perfect place to spend an afternoon when it is NOT 97 degrees.
Danny and I decide to take our Nice Ride bikes down to the riverfront. We cross the river over to St. Anthony Main. We walk along paths on the banks of the river, and cross the Stone Arch Bridge - yet another landmark of Minneapolis. Finally, we end our evening at Pracna, the oldest restaurant on the oldest street in Minneapolis! After filling up on American favorites and Grain Belt Beer (hey, when in rome, right?), Danny and I grab our bikes and head home....exhausted!